Join us for this nourishing yoga holiday at the beautiful Veduna Retreat Centre in stunning Slovenia, 6 - 13 September 2020
A rejuvenating week for you to melt away your stresses, rest and uplift so that you can return home your fullest self, recharged and revitalised!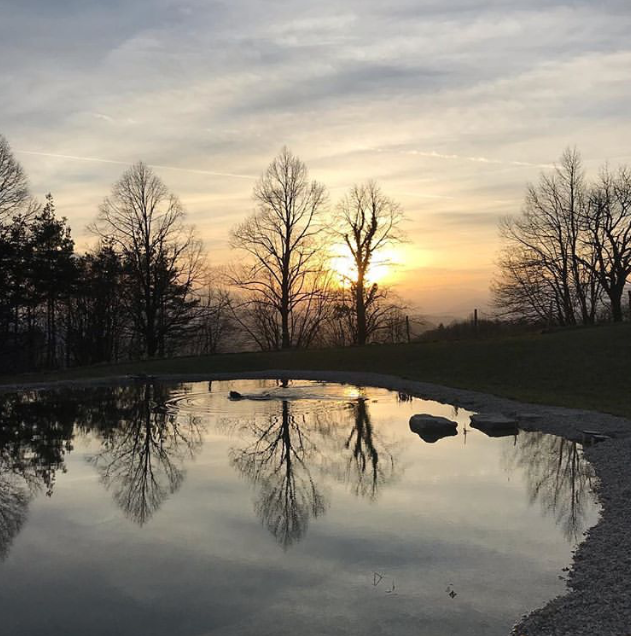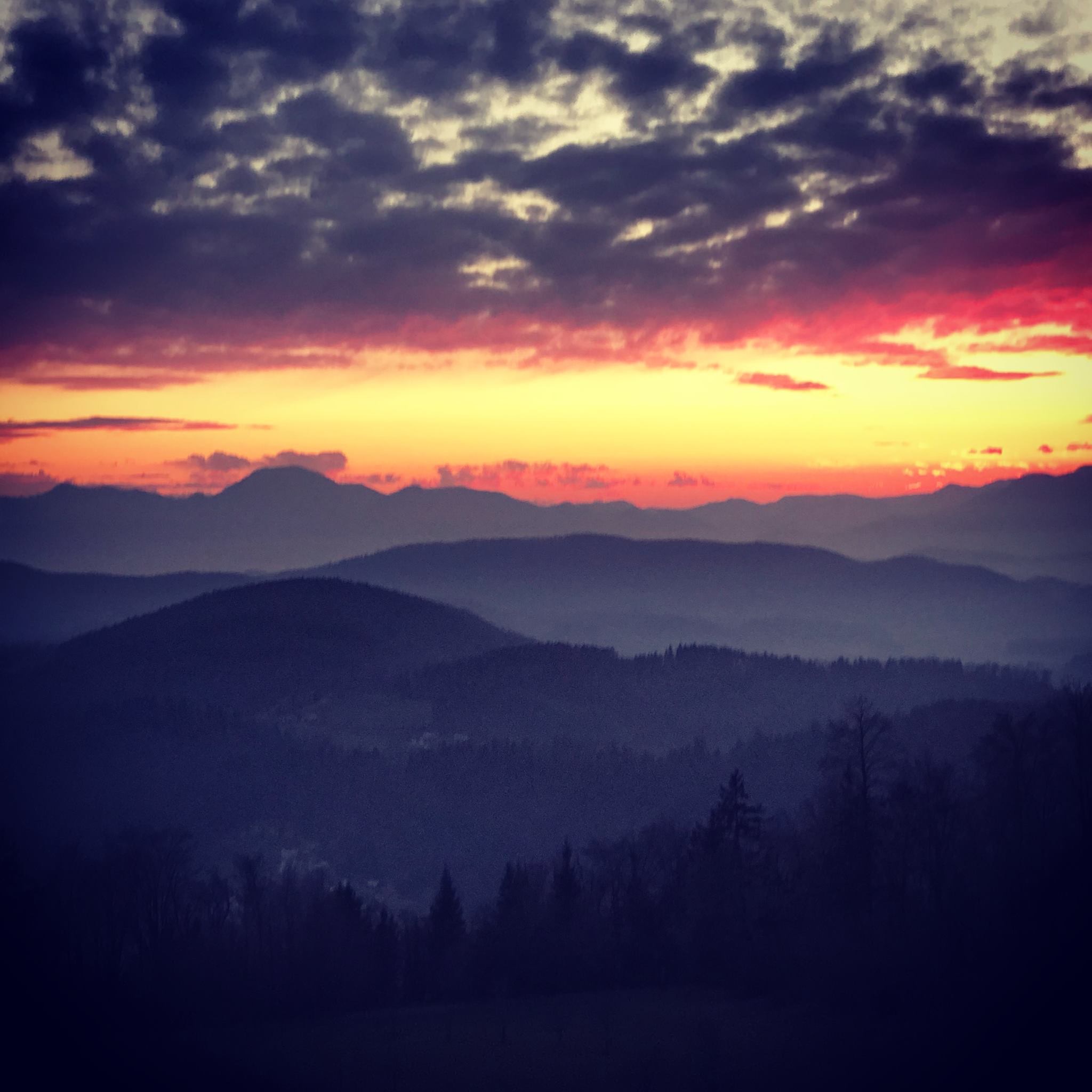 Retreat summary
Lands Yoga is so deeply pleased to offer you this Nourish + Restore Yoga Holiday and invites you to join us for this week-long full-board magical escape which aims to nourish your whole being - body, mind and spirit - and promises to also be really good fun with some wonderful people and in a truly beautiful place!

Your 7 nights full-board rejuvenating escape offers you:
nourishing daily yoga and movement practices

workshops on subjects such as yoga for back health

reflection and creative practices like writing and drawing

meditation and quiet spaces

plant-based delicious organic meals grown and prepared on the farm

a really beautiful natural swimming pool pond

brand new traditional sauna

therapeutic treatments including massages

organised city trip to explore beyond the retreat centre if you'd like to

plus plenty of fun optional activities like walks, a gorgeous pottery studio, and cooking classes
All this is set in the glorious 56+ acres of meadows, farmlands and woodlands of beautiful Slovenia.
We'd like to think that there's something for everyone (even non-yogis, if you'd like to join us with a friend or loved one who does not practice). You can also rent your own car and get out for more independent exploring! What is not to love!?
Early Bird + Booking
Reserve your place simply with a £200 deposit and get £75 off your booking per person if you reserve your place before the early bird deadline of 5 January 2020.
There are plenty of room type and price options ranging from really good full board value at £820 per person for dorm and £950 per person for 3 sharing (if you'd like to share with friends or are happy to buddy up with a fellow yogi), to exclusive sole occupancy of a larger room with private balcony and ensuite at the top end £1650. Please do see the full list of room and booking options further down the page and then reserve your place.
Further retreat info
Why go on a retreat?
Lands Yoga retreats help you to have a completely blissful break. We aim for your beautiful week away to be restoring, nourishing, holistic for body, mind and spirit, and really great fun.
The time away from the daily grind offers you opportunity for plenty of you time. Self-caring in this way is a wonderful way to look after ourselves and our loved ones. Because what we really benefit from is proactive self-care, not just reactive self-care, to ensure we are supporting ourselves before we run out of steam and burnout.
The health stats don't lie. Stress is now being referred to as the number one trigger for many diseases and conditions, it is vital that proactive rest, good food, and nourishing movement is no longer seen as an indulgence, band-aid or after-thought but as a core part of our wellbeing support and self-maintenance. And looking after ourselves doesn't have to be tiresome - it can be a truly nourishing and beautiful experience!
Away from the responsibilities of daily life, you will finally have time to nourish, restore, play and rest. With daily yoga, relaxation, meditation, exploration and reflection practices, as well as all the other optional activities (like walking, swimming, massages and treatments), you have the freedom to experience a deeper sense of calm, strength, focus and ease in body and mind in a way that really serves you, returning home reconnected and full, your true self.
All Lands Yoga retreats offer you a menu of delicious and nutritious plant-based food to support your journey in self-care from the inside and out. We offer you 3 meals a day plus plenty of snacks, teas and drinks throughout.
Being immersed in your retreat, surrounded by nature, you can unplug from the daily grind - you don't have to clean or cook or work or wrestle with life admin (what a joy!). So you can truly relax and re-connect to self, developing a greater sense of clarity, self-knowledge and healing.
You can return home at the end of your trip a human-be-ing rather than a human-do-ing, with positive and mindful habits, the benefits of which can be felt way beyond your retreat.
Destination
Veduna Retreats is a centre for sustainable, creative and conscious living located in beautiful Slovenia and set in 56 acres (23 hectares) of stunning land surrounded by meadows and mountains as far as the eyes can see. It boasts its own private natural swimming pond and is equipped with a fantastic range of yoga spaces, delicious home grown organic food and offering a menu of stress-melting and pampering massage treatments. What more can we ask for!?
If you haven't visited Slovenia before you're in for a total treat as it is a "hidden gem". Its Central European location offers the spirit of the Med, ample natural beauty and chic city living. According to Noah Charney, Guardian writer, it really is a "little known paradise" and if you'd like to know more about this enchanting country see Noah's article here and maybe read this quick guide too!
September boasts perfect weather in Slovenia for our retreat with day-time temperatures varying from 19c to 25c and 7-8 hours of sun.
We simply can't wait to share this exceptional retreat with you!
What can you expect?
Your retreat holiday package has thought of everything for you and the cost includes:
your transfers from and back to Ljubljana airport if you need them (you're very welcome to rent your own car if you wish to explore during your stay)

accommodation for 7 nights in a choice of beautiful rooms with budget options to suit you (check out the prices detailed lower)

nutritious organic plant-based meals from Veduna farm and local organic produce

yoga, movement practices, writing, drawing, reflection and meditation practices with Juliana twice a day with options of indoor or two outdoor yoga decks and a beautiful meditation room (all practices are optional as this is your holiday retreat)

free time to enjoy relaxing at Veduna, extra activities or treatments such as massages in Veduna's treatment rooms (a menu of which is provided upon booking), exploring surrounding lands, walks, or our day trip to the city

Veduna's stunning natural swimming pool surrounded by beautiful woods and nature and sun bathing deck

traditional sauna to help us detox!

56 acres of beautiful woodlands, meadows and farmland to relax, rest and roam in

a day trip to Ljubljana - officially voted the Green Capital of Europe 2016 - with a 3 course dinner and an opportunity to taste some delicious Slovenian wines (and if you're a wine lover Slovenia has some fab gems - see this Guardian piece)

and a few extra (optional!) activities during your stay such as a Lime Tree Cafe serving daily specials, a cooking lesson afternoon exploring some traditional recipes, and maybe even a go in Veduna's pottery studio which has it's own kiln (a full schedule of activities will be published on your arrival so you can do as much or as little as you wish!).
And if you're new to Lands Yoga and would like to know a little more about the offering, you can have a read of what students and clients have to say about their experiences on the Kind Words page here or learn more about Lands Yoga and Juliana here.
Your sample itinerary
SUNDAY - ARRIVAL DAY
Recommended flight arrivals will be transferred from airport to the retreat

Upon arrival ~ Free time for you to enjoy a tour of the estate, unpack, take a refreshing swim in the natural swimming pool, lounge. All day there will be teas, coffees and buffet style light lunch and foods offered to you so that you can enjoy a nutritious light meal whatever time you arrive.

6pm Welcome yoga ~ You have now arrived! A deliciously restorative movement and meditation class to melt away any stresses and your journey, welcoming you to your nourishing break

8pm Dinner ~ A beautiful celebratory welcome meal created to nourish you from the inside with many of the ingredients grown right here at Veduna's organic farm

Free time for you ~ Lounge and relax before bed
TYPICAL DAY
From 8am Morning tea ~ Set up for your morning yoga class with a delicious selection of teas and coffees, light snacks or fruit

9am Daily Morning Yoga ~ Two hours of invigorating movement practices, breathwork, stillness, relaxation, exploration and reflection

11am Breakfast + Free time ~ Delicious meal created to nourish you from the inside and then free time for you ~ Perfect opportunity to enjoy the sundeck, go for a swim, relax in the sauna, have a massage, go for a walk in the surrounding hills, lounge with good book or enjoy the nearby sights if you have a car

2.30pm Lunch + Free time ~ Nutritious tasty meal and then more free time for you

4pm-6pm Occasional activities (not everyday)

Workshops ~ Will include subjects such as Yoga for Back Health

Evening Exploration Classes ~ A variety of exploration classes from gently restorative movement, somatic enquiry with body-exploration practice, non-linear movement, meditation, journalling, visual explorations such as drawing

Activities ~ Can include pottery studio class, Slovenian cooking class, tour of the organic gardens

From 7pm ~ Nibbles

8pm Dinner ~ Delicious, nutritious, beautiful plant-based meal created to nourish you from the inside

Free time for you ~ Lounge and relax before bed
CITY ADVENTURE DAY
From 8am Morning tea ~ Set up for your morning yoga class with a delicious selection of teas and coffees, light snacks or fruit

9am Departure ~ Group transfer to the beautiful Ljubljana

Free time ~ Enjoy the city with optional tour to key sights

2pm Lunch ~ A little light fuel to recharge before more free time to enjoy the city

6pm Dinner + Drinks ~ Delicious Slovene cuisine and wine

8pm Return home + free time
SUNDAY - DEPARTURE DAY
8am ~ Closing meditation to seal in our experience

From 9am ~ Closing full breakfast with delicious plant-based foods

Recommended flight departures will transferred to airport
This sample itinerary shares with you a taste of the holiday offering and a final version will be provided closer to the time. All activities are optional so you can enjoy any or all parts of your holiday retreat, especially on arrival and departure dates as these will depend on your flight and travel requirements.
Sample menu
Breakfast

fresh juices, smoothies, delicious breads served with a range of jams, or option of porridge.
Lunch

freshly prepared organic 3 course meal

Dinner

freshly prepared easily digestible organic meal

All day

freshly squeezed apple juice, teas, fresh mint and lemonades as well as snacks

Dietary requirements

we really do want you to have a really positive experience that serves you so are happy to cater to your dietary requirements just let us know upon booking.
Who is welcome?
Yoginis/Yogis - This retreat is open to all levels of yoga experience from total beginner to more experienced practitioner. If you have never practiced yoga before or have any specific health concerns please get in touch to discuss how the retreat can best serve you. You are very welcome to travel solo or with someone. Solo travellers can enjoy their own room or ask to share with another guest.

Non-Yoginis/Yogis - This holiday aims to be inclusive so your travel companion is very welcome even if they do not practice yoga :) They can just enjoy the restorative break without having to take part in any of the yoga if they don't wish to - perhaps just spending their time by the pool, sauna, taking walks, reading, having some relaxing treatments and really just making the most of their break in whatever way they wish to spend their retreat time.
Cost and room options
Veduna offers options to suit your needs and budget from sole occupancy to shared rooms. All rooms have an elegant, beautiful simplicity with calming interiors and peaceful views, making them perfect retreat spaces.
Your retreat booking is full-board and includes your accommodation, food, transfers, daily yoga practices, access to natural pool, sauna and the surrounding lands. Retreat booking options are as follows:
Retreat Centre Rooms: Choice of 5 beautifully airy and stripped back, elegant rooms all beautifully named (Lotus Room, Misty Sage, Cherry Blossom to name a few), all offering private balconies with gorgeous views and each with lovely en-suites. Option of sole occupancy, 2 or 3 sharing.

Sole Occupancy: £1550 or £1650 for larger room

2 Share: £1200 per person or £1300 for larger room

3 Share: £950 per person

Old Farmhouse Rooms: Choice of 2 charming bedrooms in this sweet farmhouse which also offers its own living room so makes it perfect for friends or family to enjoy. Option of rooms for sole occupancy or sharing with shared bathroom.

Sole Occupancy: £1300 or £1400 for larger room

2 Share: £1050 per person or £1150 for larger room

Willow Tress Elegant Dorm: Wonderfully simple, elegant space to share with a maximum of 6 like-minded yogis. Great option for a group of friends or solo travellers wanting an escape that's really great value.
Total spaces are limited to 12 students and rooms will be offered on a first come basis.
Book your restoring yoga holiday today with a £200 deposit.
Early Bird discount of £75 offered until 5 January 2020
Optional instalment payments - once you have made your deposit to secure your place we will send you a welcome pack with all the info and payment instructions. You can then choose to pay in a single payment, in 2 or 3 instalments with final balance payment due by 6 July 2020.

If booking after 6 July 2020 the balance will need to be paid in full so please email hello@landsyoga.com to make your booking and we'll provide you with payment details.
When booking, please let us know whether you'd like to enjoy sole occupancy or share with someone. If you're sharing and there's someone you'd like to share with just let me know when booking so that we can pair you up. Otherwise we can allocate your room based on the best possible match.
The price does not include
Flights to Slovenia (which are usually very reasonable from London to Ljubljana) and any transfers outside of the offered schedule

Extras during your retreat such as private lessons or treatments (such as a massage or facials) that you may wish to have at Veduna's treatment centre or with Juliana
Getting here
Veduna Retreats is located in Velenje, Slovenia.

Nearest airport is Ljubljana with really reasonably priced flights from London and other European cities from as little as £69 return and flight time from London around 2 hours (correct at time of update: July 2019).

Set schedule of transfers from and back to the airport will be provided upon booking and these are inclusive of your cost. Transfers outside of the provided schedule are not included.

You're welcome to hire a car if you wish to enjoy exploring some Slovenian sightseeing during your stay or beyond - there are plenty of car rental options as detailed on the Ljubljana visitor website. You can check out some travel tips here.
Class rules and terms
Class rules + terms apply to all Lands Yoga classes, workshops, courses and retreats as detailed in the new student registration form which must be completed before participating and website Terms + Privacy.
We hope that covers all your questions but do get in touch if you need to know anything else.
We really do look forward to sharing this wonderfully nourishing retreat holiday with you!!